Mobile printers offer supply chain businesses the opportunity to increase productivity, precision and accuracy.
By giving users a tool to produce labels and receipts exactly at the time and the location they are needed, supply chain organisations can save on the steps required to travel to a stationary or vehicle-mounted printer, pick up the print output, which often includes waiting at a busy print station, and bring it back to where it is needed. These steps build unnecessary time and labour cost into printing operations.
Accuracy can also be vastly improved, virtually eliminating mislabelling and other mistakes associated with multiple users sharing print stations or print delays.
Supply chain professionals need to understand, however, that even the same mobile printer used in a slightly different environment or in conjunction with different equipment can present vastly different levels of productivity gains. This makes it important for supply chain professionals to properly understand not just the latest technology advances in mobile printing, but also how their own operating environment and equipment will interact with the printers to ensure they are selecting the right product and right productivity booster for their business.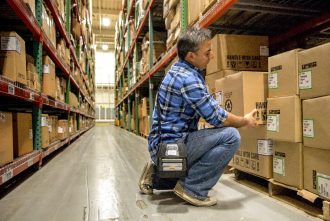 Respect the work environment
In contrast to stationary printers, which are usually stored in an office, shop floor or vehicle, mobile printers go with the worker, and as such may be exposed to dust, dirt, snow, rain, heat and humidity. They are also at risk of being hit each time the user gets into or out of a vehicle, as well as being dropped.
Portable printers need to be protected against the work environment. Ruggedness is an extremely important quality, even when used in retail or carpeted environments, because drops, spills and rough handling are routine, and failing to safeguard against these threats will result in lost productivity, the inability to complete necessary tasks and reduced service levels.
Don't deviate from enterprise security and integration standards
A key consideration is the ease with which mobile printers can be integrated with various software applications used by a supply chain business and the development environments they will have to operate within.
Mobile printers can support IT standards for integration, device management and wireless security, so supply chain professionals should insist on models that are compatible with their platforms and preferences. It is not enough for a wireless mobile printer to connect to the network or with other devices, it must do so securely.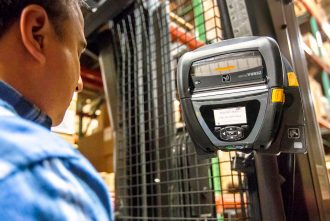 Match the mobile printer to its computer
Although independent printing is becoming more advanced in the supply chain sector, in most cases mobile printers are still matched to a mobile computer that directs printing and runs other applications. Most mobile printers have basic compatibility with dozens of mobile computers. However, many users are surprised to learn that printer performance can vary significantly depending on the computer it is paired with.
The printer-computer combination is an important variable for productivity and should be evaluated during the selection process.
Consider operating cost as part of total cost
The purchase price of a printer and the cost of its supplies are only a small measure of its true cost. Performance issues that limit productivity drive up the cost of mobile printers, so reliability, expected maintenance costs, the time to complete repairs and whether printers can be serviced remotely should all be considered. Rugged mobile printers often have a higher list price than common commercial models but have longer life cycles and are more resistant to damage, which results in lower repair costs and service interruptions.
Service and support requirements are a major component of total cost of ownership and tend to vary more widely than hardware list prices. The most important cost to consider is how the printer impacts productivity. Those that perform reliably and minimise the time users and their customer spend waiting for labels and receipts will provide higher long-term value.
Working with Zebra and Honeywell
Mobile printers are available in a variety of configurations and ruggedness levels, so they can be optimised for specific business processes and work environments. The mobile printer model that is best for any specific job is the one that will provide superior reliability to keep users productive.
As a global leader in providing a comprehensive range of intelligent intralogistics and materials handling solutions, Dematic is always looking to improve efficiency and logistics processes for our customers. Dematic works with both Zebra and Honeywell to provide customers with mobile printing solutions that are reliable and increase the efficiency, productivity and accuracy of supply chain workers. For further information contact Dematic Real Time Logistics today.