Voice picking solutions
with Real Time Logistics
Voice picking solutions use innovative technology and software that directs warehouse operators to certain storage locations and tells them what to pick and where to put it.
Wearing a headset designed for comfort, a picker listens to the instructions and confirms locations and quantities etc. by simply speaking back to the system. Warehouse Voice picking systems understands the response through state-of-the-art voice recognition technology – even in a noisy warehouse – and then continues to direct the picker accordingly. Pick to voice systems are the future of warehousing.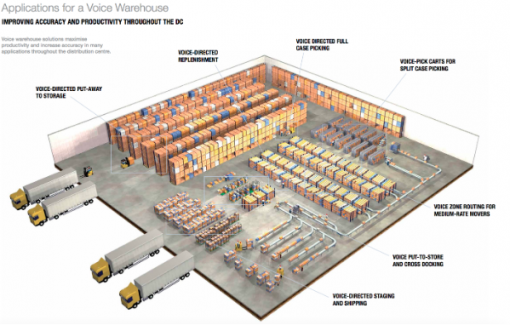 Benefits of voice-directed warehousing
The major benefit of voice recognition technology is that the manual picking process is made easier. Locations are fast and easy to identify, quantities are confirmed with the system and voice pickers can work continuously without the need to look down to find his or her place on a long picklist. With enhanced speech recognition software, picking issues are reduced, picks are completed more quickly, and any discrepancies between the data and the inventory are sorted out as you go.
With voice instruction, the terminal prompts the operator through each picking assignment. To verify the correct location and product being picked, pickers read the location's assigned check digit or the last three digits of the product barcode. The voice implementation system verifies this and then tells the picker with the quantity to pick.
Dematic's voice picking solutions – now on Android!
Voice warehousing is now available to businesses using devices running on the Android™ operating system.
Automated Voice Solutions made easy
Operators wear a portable, belt-mounted voice terminal and a wireless headset. Workers are able to hear instructions and perform tasks without having to look down at a hand-held computer screen or sort through paper lists. Voice picking is hands and eyes-free, allowing staff to work more safely, efficiently and accurately.
The voice terminal communicates wirelessly in real-time with the host computer or Warehouse Management System (WMS), prompting the operator through each assignment, with verbal instructions. The operator verbally confirms the correct task has been executed via the headset microphone. The voice system verifies this and then gives the operator the next task.
Voice directed warehousing FAQ
1. Re-label Warehouse and Products
Many times warehouse locations and products will need to be relabelled for the new system.  Voice solutions prompt a worker to read back a set of check digits for the specific location. The time and money spent on prep need to be considered when implementing voice picking technology.
2. App Design & voice recognition software
Will the new application handle all exceptions or will there be types of transactions that allow, or require, the picker to go off the voice system? Dematic's Voice specialists will work with your business to identify all the transactions and conditions you require.
3. Training and Use of New System
Voice picking technology establishes a new system process and standard. Whilst this represents a big change in procedures for staff, in most cases, employee engagement is positive. Voice is easy to learn and workers using it can be productive within an hour, which is also helpful later on when bringing in new or temporary staff. When compared to the time it takes to learn other technology solutions, training time and costs can be cut dramatically with Voice, in many cases more than 50%.
4. IT Support, Voice software & voice pick-training
Once the warehouse is on voice, any system and technology issues will need to be managed by experts. Dematic's customer service team can provide you a customised service plan to suit your requirements, including 24/7 support.