By: Brian Lang, Director Real Time Logistics, Dematic.
As supply chains across Australia and New Zealand become ever more reliant on integrated technology, the trend towards touch-screen mobile devices has been a crucial step in the development of increased efficiency in the warehouse. Leading supply chain and warehouse operations require staff to have effective access to workplace and product information in order to complete tasks and capture data accurately so that products are where they're needed when they're needed.
Handheld devices have long been a staple within the supply chain, to ensure warehouse staff are equipped with real-time connectivity to host systems and information, to increase accuracy and productivity. However, in recent years we have seen a shift to the use of touch-screen mobile devices, in order to give warehouse workers technology that they can quickly adapt to because it reflects the technology they use outside of work.
Warehouse mobility benefits
The warehousing industry has adopted mobile technology as a way to enhance operations. By integrating mobility into everyday processes, a better rate of accuracy and speed can be achieved to optimise operations within supply chains. By investing in these digital solutions, warehouses have seen many benefits of real-time data and improved communications with employees. This can have a very positive impact on workplace efficiencies, which can result in an increase in customer service and overall sales.
Customisable and transferable technology
The mobile technology that we use in our everyday personal lives is now being seamlessly blended into the technology we use in the workplace. This trend has reached the warehouse because it allows workers to quickly adopt the skills needed to successfully perform their jobs and get working faster, as the mobile touch-screen devices they use at work closely resemble the easy to use characteristics of many smartphone devices used outside of work.
The ability to fully customise user interfaces on mobile touch-screen devices – with solutions such as Ivanti Velocity, which is compatible with most Android devices – can bring the familiar, multi-touch experience of today's advanced smartphones to workplace touch-screen devices.
Mission-critical apps can be positioned to create an easy-to-use interface that accelerates task-screen navigation and helps the workforce to enter data quicker and more precisely.
What devices are available to choose from?
Leading touch-screen mobile devices built on the Android platform that are frequently and effectively deployed within the warehouse include the Zebra TC800, Zebra TC57, and the Honeywell CT60.
The super rugged Zebra TC800 Touch Mobile Computer features a scan angle that eliminates constant tilting to scan barcodes, which improves worker comfort and productivity. The device saves on average 14 per cent per worker compared to traditional devices. The Zebra device also includes features that provide better control of mobile devices, application access and Wi-Fi performance and security.
Another model from Zebra, the Zebra TC57 Touch Computers are rugged and include new capabilities that work to provide enterprise-class touch computing, including faster connectivity, which enables workers to maximise their productivity by minimising process cycle times.
The rugged Honeywell CT60 is ideal for enterprises that require connectivity at any time and at any location, with fast data capture for maximum uptime and productivity. The Honeywell device features an integrated, scalable platform which enables enhanced security, reliability and performance.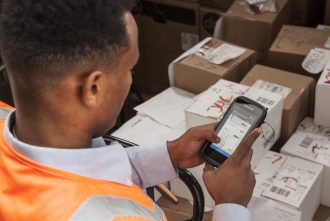 How to deploy mobile technology in the warehouse
The deployment of touch-screen mobile devices in the warehouse enhances workplace productivity, accuracy and security, whilst also placing an increased focus on maximising a return on investment (ROI). In order to successfully deploy touch-screen mobile technology to warehouse environments, it's important to take a proactive approach when initiating how the system will translate to your existing warehouse procedures. This includes steps such as ensuring that the devices are set up and ready for the workday, forgoing guesswork for data-driven decisions, and predicting any issues that may impact productivity. The most important factor is to consolidate your important product data so that it is transferable within the warehouse.
As more and more supply chain operators adopt the trends of touch-screen mobility, they allow their workplace processes to be optimised, which in turn increases efficiency and productivity and result in a positive ROI. The familiar, easy to use designs of touch-screen mobile devices make them compatible with most systems – including the world's most used platform, Android – allowing employees to work with a system and interface that is similar to that of their own personal mobile phones. This makes them the perfect tool for streamlining warehouse skills and capabilities.
For further information please contact us today.
---
Subscribe
Stay up-to-date with Dematic and industry news from Australia and New Zealand by subscribing to our email newsletter, What's New in Logistics.