Tasty Fresh, the market leader in national workplace food manufacturing and delivery with a focus on the customer experience, has improved its warehouse productivity by 35% with a Dematic Voice Solution, transforming its stocktake and supply chain operations.
Tasty Fresh delivers fresh and hot food, snacks, and drinks right to the door of workplaces daily in Melbourne, Perth, Sydney, Newcastle, and Queensland.
"Tasty Fresh is a national business that started back in 1979," explains Colin Lear, Founding Director at Tasty Fresh Food Co. "We have six outlets across four states and service around 35,000 customers per day from around 153 vans. We produce around 60,000 units per day from our facilities, and we handle around 100,000 units per day."
Tasty Fresh recently engaged Dematic to help the organisation move from a manual way of tracing stock with paper and tablets to a more automated and centralised solution that delivers higher levels of efficiency, productivity, and accuracy for its supply chain.
"Tasty Fresh's stocktaking processes previously involved each individual Van Sales Manager doing a stocktake on each individual SKU on our vans," explains Adam Van Bergen, National Operations Manager at Tasty Fresh Food Co. "With so many people counting so many SKUs, accurately managing stock was a real challenge."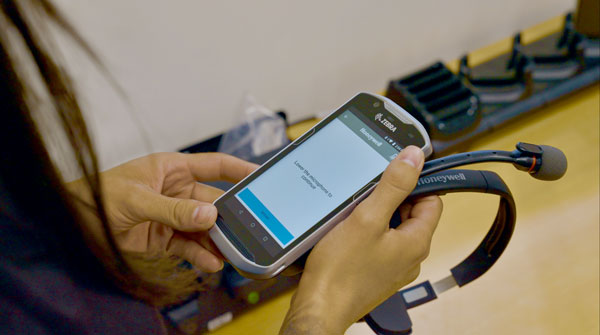 A key focus of the project was to be able to provide data back to Tasty Fresh for inventory and reporting purposes. A real-time logistics voice-on-Android solution was selected as the best system to meet the needs of Tasty Fresh.
The voice solution deployed by Dematic works as a seamless, paperless, and hands-free eyes-up solution. Operators are guided through a workflow using a mobile device and voice headset, with inputs from voice and scanning automatically sent back to Tasty Fresh's central supply chain system. This includes data gathered through anything from order picking to replenishment and stocktake.
"The voice solution was deployed at each Tasty Fresh depot," said Van Bergen. "The two primary voice workflows that were implemented were pick-to-trolley and van loading."
Tasty Fresh team members are advised on which food or drink product SKUs and quantities are to be loaded onto each trolley. When completed, they proceed to van loading. Team members are then instructed, per van ID, which SKUs and associated quantities are to be replenished into each van in SKU sequence.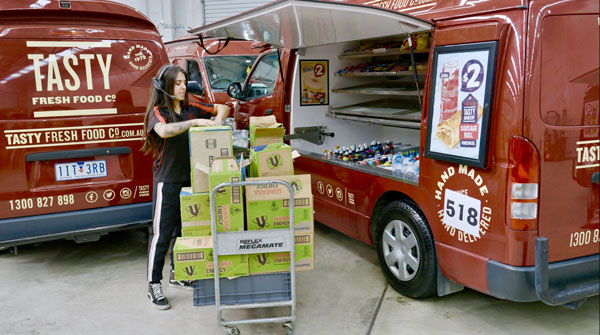 Product shorts, overfills, and audits are all tracked simultaneously, saving workers the time of having to go back and forth doing these tasks separately. This helps Tasty Fresh to check expected stock from point-of-sale deductions versus physical van replenishment – all through the one voice technology process.
"The voice solution tells us what to load inside the vans and tells the system how many we are loading," said Aline Parra Sanchez, Brisbane Warehouse Manager at Tasty Fresh Food Co. "This means that when we are loading we are also doing the stocktake. It's a great system that ensures our stock is right by checking our sales match with the stock being loaded in the vans."
Voice technology delivers up to a 35% productivity improvement from legacy systems by allowing worker hands to always be free to pick products and complete all warehouse-to-delivery vehicle tasks.
With eyes always focused on the job, workers are also able to quickly find, pick, and pack the right products, reducing errors by up to 50%. Additionally, automated stocktake has also reduced not only time but also errors through manual counting.
"Voice has improved productivity across the business," said Van Bergen. "We're saving between five and ten minutes a day per Van Sales Manager, and while that may not sound like a big deal, five to ten minutes across 170 employees a day is quite a significant cost savings."
Click here to learn more about Voice Picking Solutions from Dematic.