Developing efficient warehouse procedures is made remarkably easier with hands-free, wearable technology. By taking advantage of augmented reality (AR) technology, products from Real Time Logistics can provide staff with the information they need to complete their warehouse-based tasks quickly and efficiently.
Here, we take a look at the different types of technology that are available to warehouse operators that want to streamline their work processes.
Voice Picking Solutions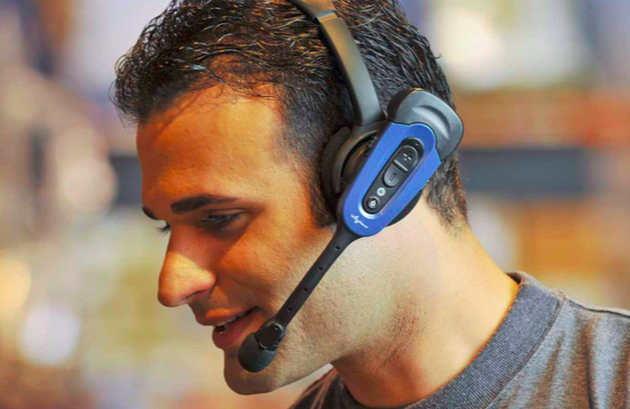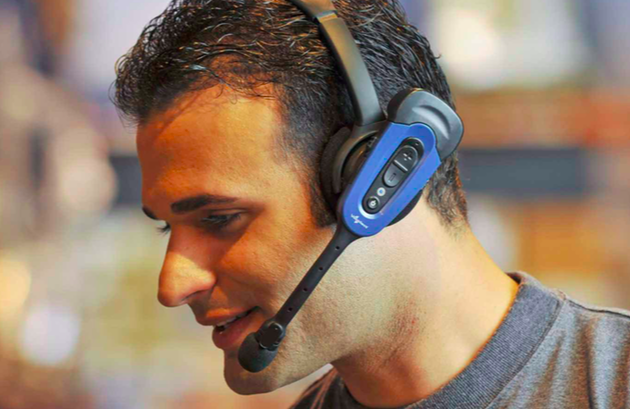 Supply chain processes are being revolutionised by voice-directed computing, which can help increase productivity and accuracy, and comes with countless safety benefits.
Using innovative technology and software, voice picking solutions will direct your warehouse operators where to go, telling them what they need to pick, and where they need to put the picked items.
Voice recognition software is utilised, to ensure operators can clearly hear instructions and vice versa, despite noisy warehouse conditions.
It can also be used effectively to add visibility, productivity and accuracy to:
Receiving
Putaway
Replenishment
Picking
Put to store
Cycle counting
Pallet building
Quality control
Staging and shipping
The technology will also be configured to each picker's distinct voice, ensuring any accents, speech impediments or unique dialect is understood. This is something that only needs to be done once. Once the terminal has been 'trained' to understand each staff member's voice, it will remember each of his or her unique verbal characteristics. Operators will also be able to confirm stock locations, quantities, and much more – all they have to do is ask!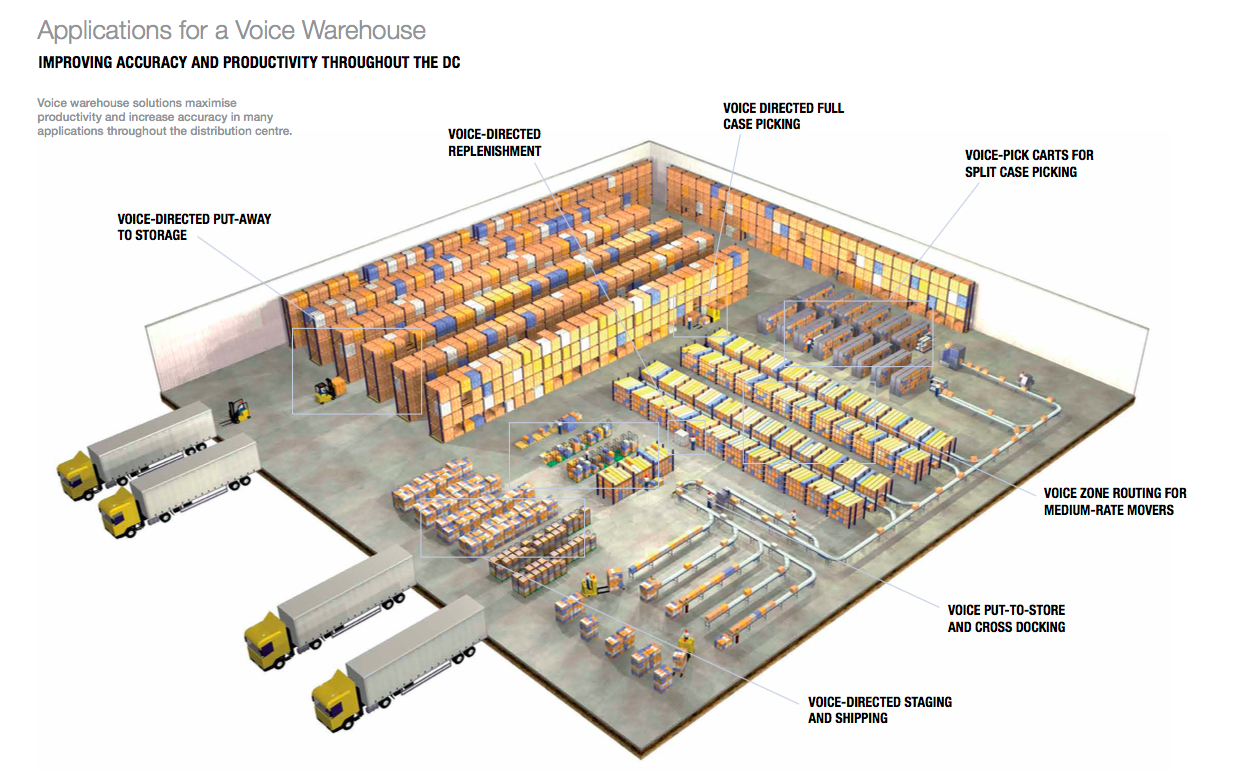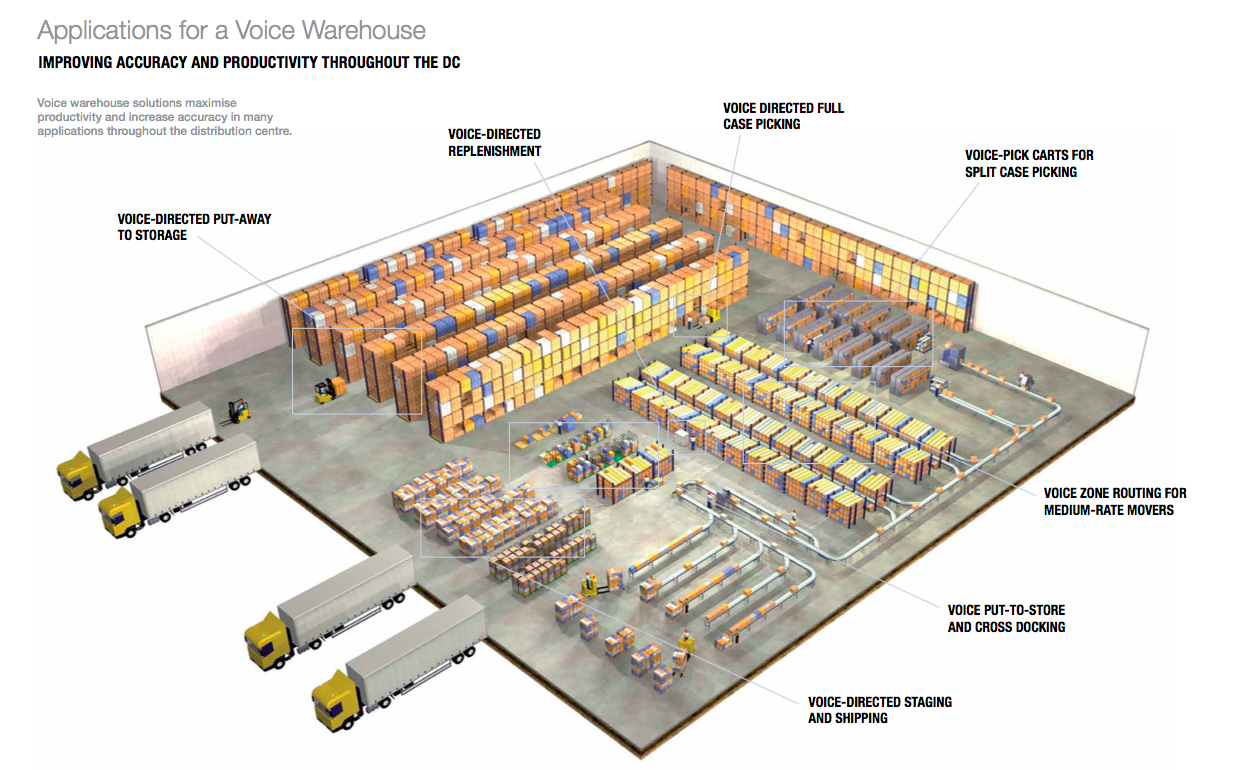 The Benefits of Voice Picking Solutions
Voice picking solutions come with a number of benefits, the most obvious being that picking is made much easier. Workers are able to work continuously with limited interruption and will no longer need to stop regularly to decipher long picking lists. In fact, voice picking is able to increase productivity in warehouse environments by up to 35%, with 99.99% accuracy. As such, voice picking is a much more efficient picking technique than other traditional means, like paper and RF picking.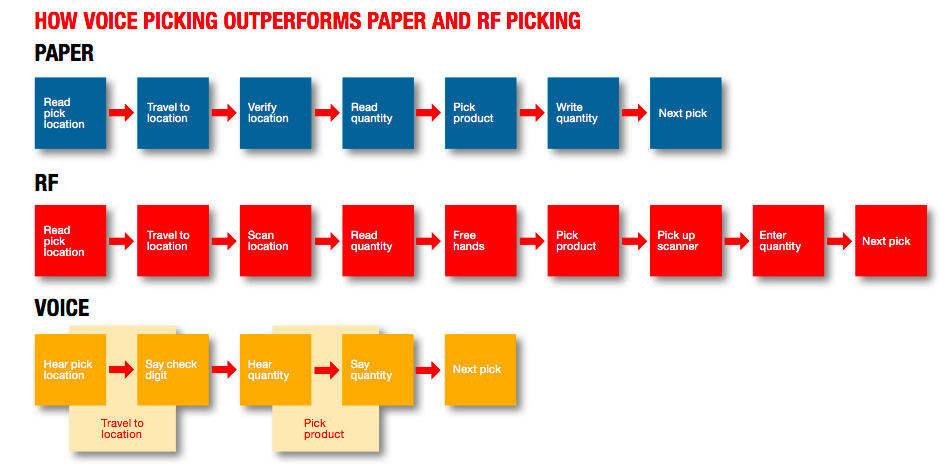 Another noticeable benefit of voice-operated technology is that operators usually experience a drop in mistakes and discrepancies between the inventory in stock and the data, as these errors can be rectified on a rolling basis, as they're discovered.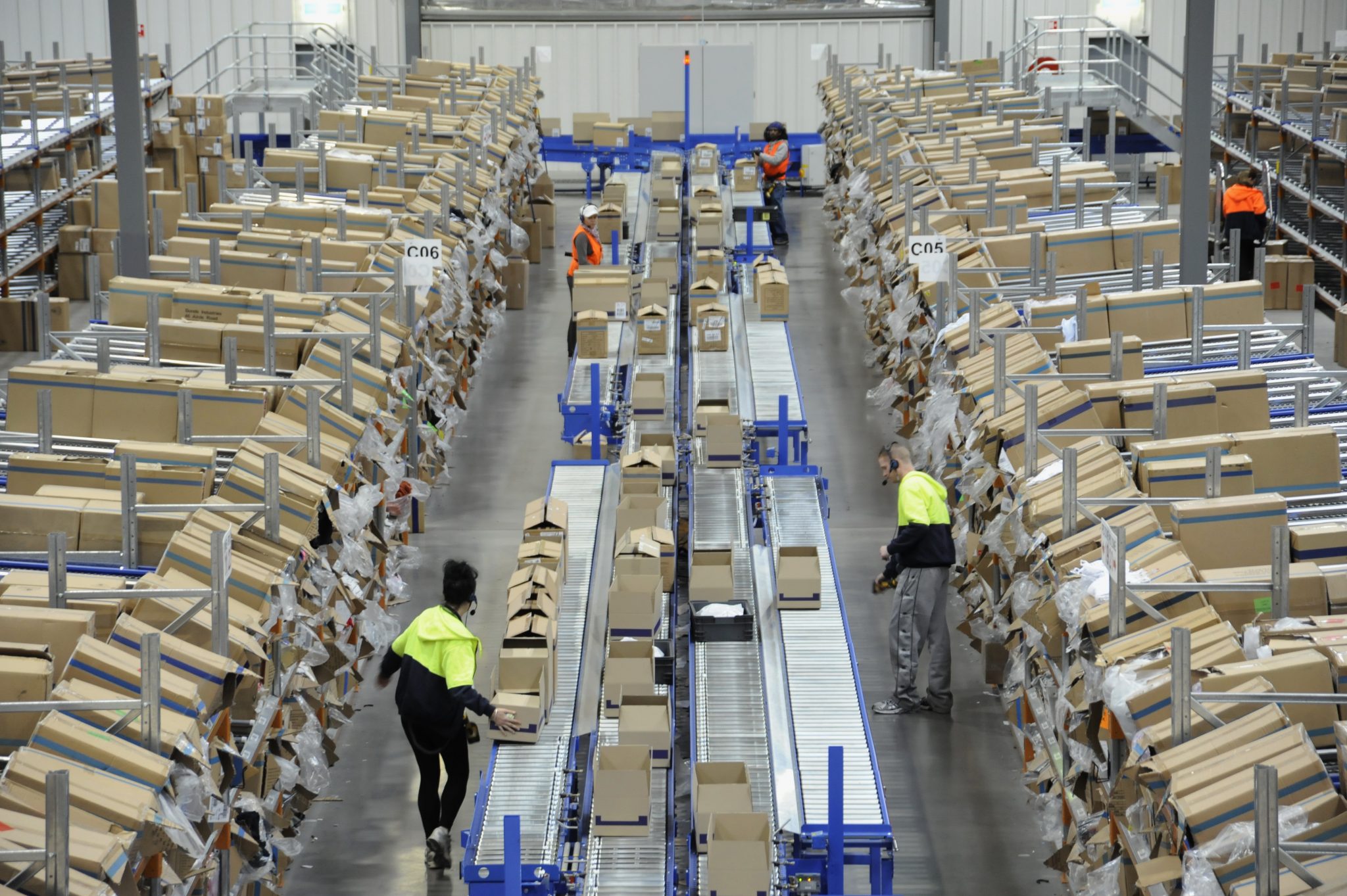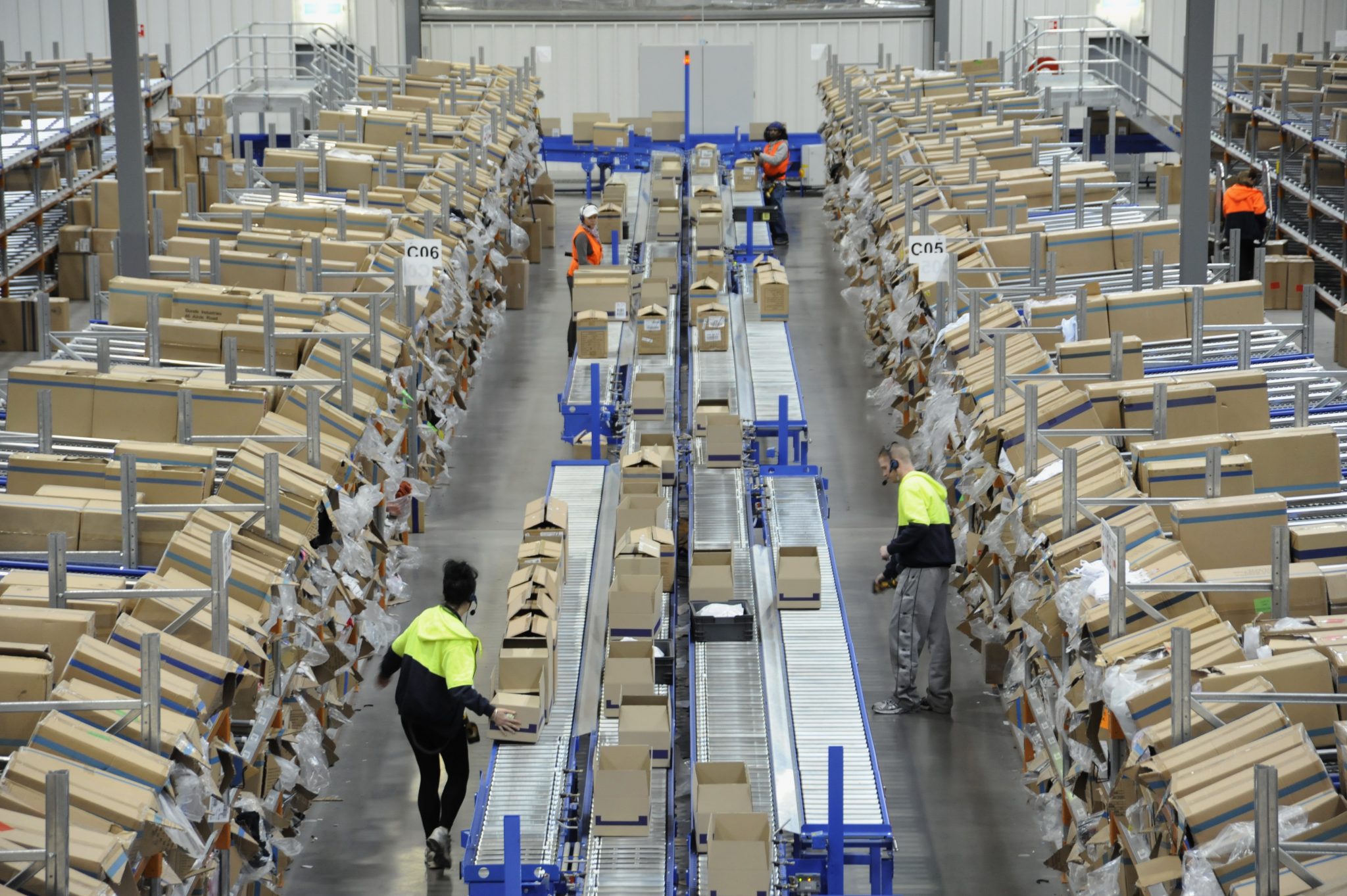 Additionally, voice picking will also assist with tracking staff productivity and performance. Voice picking technology updates in real-time, so management will be kept up-to-date with each picker's progress and rate of order completion as they work. This can also assist with any customer queries regarding outstanding orders.
However, voice picking technology isn't limited to just picking orders in a warehouse. Dematic also works with Vocollect to design voice solutions that are suitable for end-to-end supply applications, which can be utilised anywhere from in warehouses to yards and factories.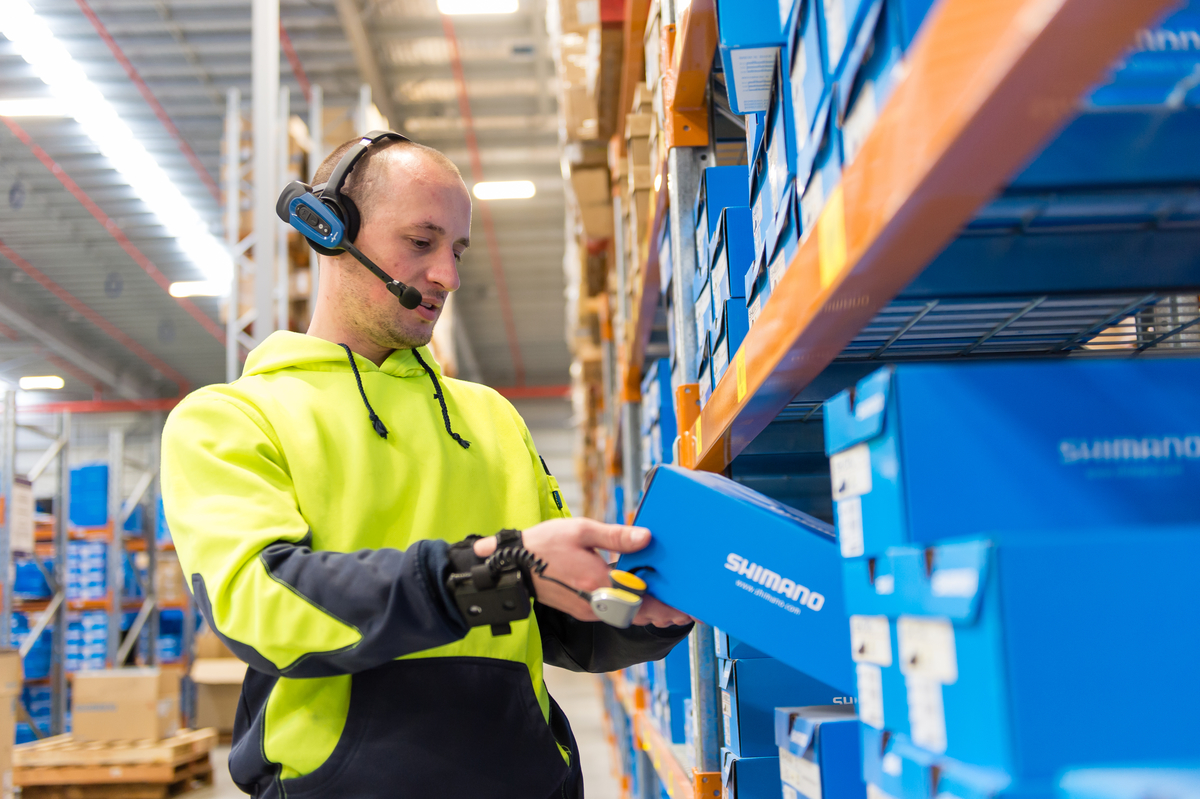 Benefits of voice in other applications:
Improved productivity
Increased accuracy
Operators can interleave tasks to optimise efficiency
Greater situational awareness
Improved ergonomics through two-handed handling
Reduced potential for forklift truck damage and accidents
Improved management visibility
Lower training overhead
Voice picking technology can also be utilised outside of warehouse picking environments for the following tasks:
Put-away
Replenishment
Put to store and cross docking
Cycle count
Quality control
Staging and shipping
Dematic's Voice Picking Technology
Real Time Logistics have developed Real Zone Routing Systems and Voice Pick Carts.
Zone Routing Systems improve the performance of order fulfilment by conveying orders directly to pickers in zones. Since orders are only sent to the zones where picking is actually required, travel time between zones will be reduced, and the level of order responsiveness will be increased. This will also help increase flexibility, as multiple pickers can congregate in any given zone to handle any peaks in volume.
Voice Pick Carts are another effective tool for warehouse pickers in non-automated conditions. Operators are able to pick multiple orders at once on a single trip, reducing travel time between orders. In a typical configuration, the Pick Cart will have three to four shelves that are able to accommodate the shipping containers for up to 40 orders.
To see this technology in action, take a look at our Americold case study, where Dematic helped a global leader in temperature-controlled warehousing and logistics to the food industry increase their productivity and accuracy.
Smart Glasses


Similar to voice picking technology, vision picking makes paperless, hands-free operation possible. These glasses have AR overlays that display information about a task at the time and location that information is required. For instance, when a picker is in the correct pick location, they will be able to view a description of the required product, as well as the quantity that's needed, without having to consult any other lists or equipment for information.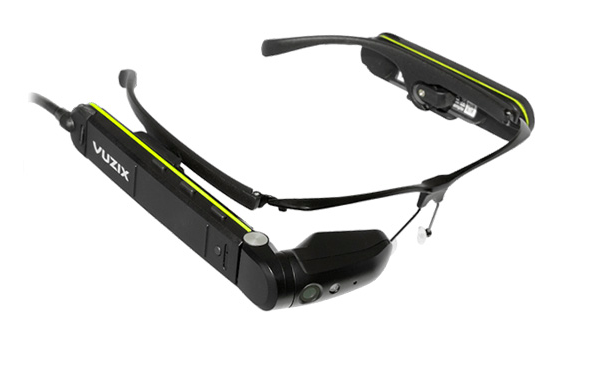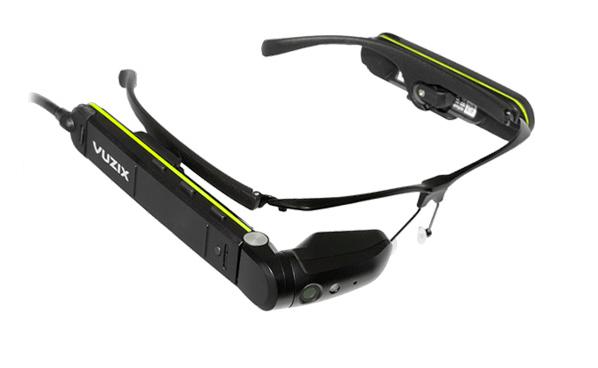 The Benefits of Smart Glasses
Accuracy and ease-of-use are two of the most stand-out benefits of vision picking technology. Additional benefits include fewer mistakes and improved OH&S, as well as:
Agile, quick fulfilment
Reduced error rates
User-friendly and intuitive
Fast on-boarding
Hands-free
Improved OH&S
High approval rate among operators
Each pair of glasses use barcode scanning technology and integrated cameras to interact with warehouse environments, as such, the technology can guide operators through the warehouse, ensuring they get to where they need to be. This route optimisation, as well as the timely access to real-time data will help operators work more efficiently, while also virtually eliminating errors.
For more information on any of the products detailed here, or for a discussion around what type of technology will help improve efficiencies in your warehouse, contact Dematic today. We can provide you with a customised hands-free solution that will meet your warehouse's specific operational needs.